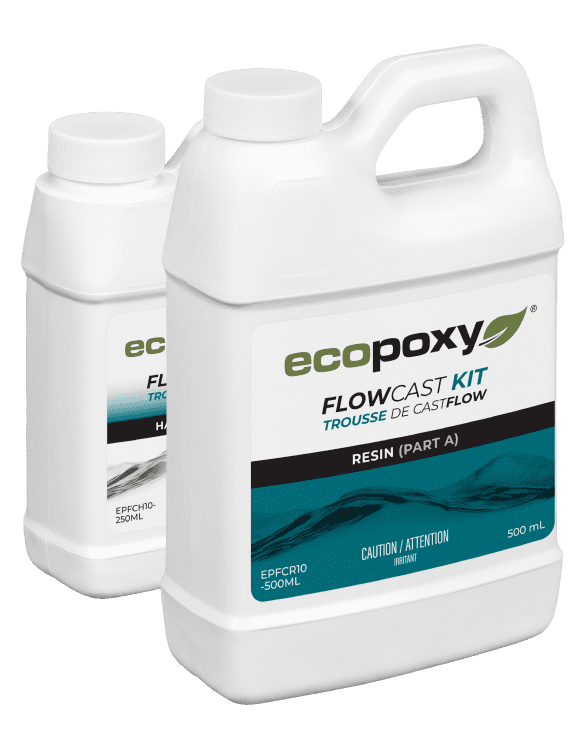 750mL FlowCast Kit… $59.96
1.5L FlowCast Kit… $91.96
3L FlowCast Kit… $139.96
6L FowCast Kit… $219.96
12L FlowCast Kit… $347.96
30L FlowCast Kit… $719.96
60L FlolwCast Kit… $1,295.96
654kg (612L) FlowCast Drum Set… $11,759.96
1000kg FlowCast Resin… $14,399.96
949kg FlowCast Hardener… $18,799.96
The Woodworker's Epoxy
FlowCast® is a casting epoxy resin that looks like liquid glass. When the two parts are combined, it hardens to a crystal clear, durable finish to a maximum thickness of 1.5″. Use FlowCast® epoxy by itself for a crystal clear finish or pigments can be added to create custom colors and effects.
FlowCast® can be worked using the same tools you already have for woodworking such as a lathe, table saw, or belt sander, leaving you thousands of possibilities to create beautiful projects. Be sure to check us out on social media for inspiration and see what other artists are making out of EcoPoxy.
Used to Create:
River Tables
Encapsulating objects
Wall art
Furniture
Filling larger gaps and voids
Casting projects using silicone molds
Perfect for Thick Pours. With the ability to cast up to 1.5" thick, FlowCast® is perfect for pouring river tables, ocean tables, and any other deep pour applications or casting in silicone molds. 
Cures Crystal Clear. FlowCast® cures to a water-like appearance, or it can be colored with one of our many pigments. 
No More Bubbles! FlowCast® has excellent air release and a low exothermic heat buildup producing a crystal-clear, solid finish that resists stress cracking.
Other Features:
100% solid
Self-leveling
Extremely durable
FlowCast Product Information
Mix Ratio
2:1 by volume
Working Temperature
21-27ºC (70-80ºF)
Pot Time
8 hours depending on ambient temperature
Workable/Cure Time
72 hours depending on ambient temperature, humidity, and thickness
Recommended Thickness per Layer
1/4″ – 1.5″ per Layer. Maximum recommended pour depth of 1.5". Not recommended for pours less than ½" depth
Viscosity (Thickness)
Low Viscosity to Fill Tight Spaces and Excellent Air Release
Cure Appearance
Crystal Clear
Bio Content
35%
Pigments Can Be Added
Yes
Clean Up
Denatured Alcohol