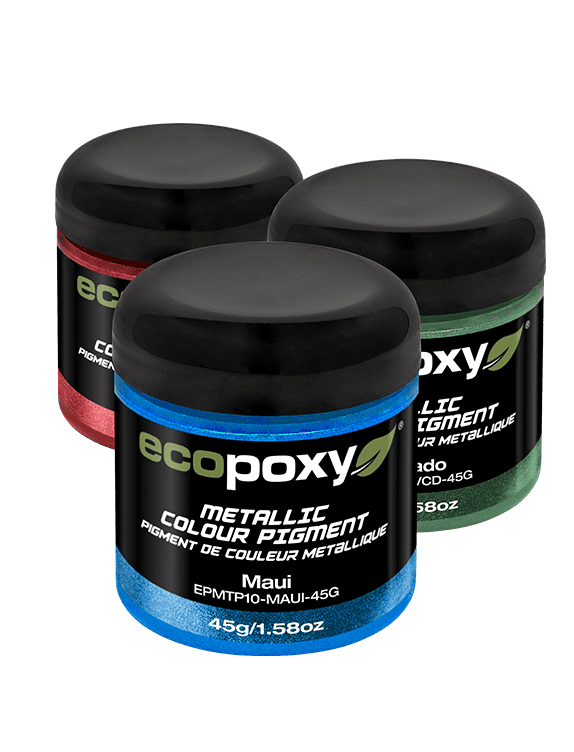 Set 1 of 10x 5G Metallic Color Pigments Samples… $21.56
Set 2 of 10x 5G Metallic Color Pigments Samples… $21.56
Set 3 of 10x 5G Metallic Color Pigments Samples… $21.56
15g Metallic Color Pigment – Americana… $11.96
15g Metallic Color Pigment – Avocado… $11.96
15g Metallic Color Pigment – Carribean… $11.96
15g Metallic Color Pigment – Caviar… $11.96
15g Metallic Color Pigment – Coral… $11.96
15g Metallic Color Pigment – Dolphin… $11.96
15g Metallic Color Pigment – Fire Truck… $11.96
15g Metallic Color Pigment – Margarita… $11.96
15g Metallic Color Pigment – Maui… $11.96
15g Metallic Color Pigment – Ocean… $11.96
15g Metallic Color Pigment – Pearl… $11.96
15g Metallic Color Pigment – Reef… $11.96
15g Metallic Color Pigment – Sandbar… $11.96
15g Metallic Color Pigment – Sangria… $11.96
15g Metallic Color Pigment – Whale… $11.96
Set of 15x 15g Original Metallic Color Pigments… $179.96
15g Metallic Color Pigment – Azure… $11.96
15g Metallic Color Pigment – Bahama… $11.96
15g Metallic Color Pigment – Banana… $11.96
15g Metallic Color Pigment – Candy Apple… $11.96
15g Metallic Color Pigment – Copper… $11.96
15g Metallic Color Pigment – Emerald… $11.96
15g Metallic Color Pigment – Espresso… $11.96
15g Metallic Color Pigment – Jungle… $11.96
15g Metallic Color Pigment – Mango… $11.96
15g Metallic Color Pigment – Midnight… $11.96
15g Metallic Color Pigment – Parrot… $11.96
15g Metallic Color Pigment – Pineapple… $11.96
15g Metallic Color Pigment – Royal Purple… $11.96
15g Metallic Color Pigment – Seafoam… $11.96
15g Metallic Color Pigment – Wine… $11.96
Set f 15x 15g New Metallic Color Pigments… $179.96
45g Metallic Color Pigment – Americana… $28.76
45g Metallic Color Pigment – Avocado… $28.76
45g Metallic Color Pigment – Carribean… $28.76
45g Metallic Color Pigment – Caviar… $28.76
45g Metallic Color Pigment – Coral… $28.76
45g Metallic Color Pigment – Dolphin… $28.76
45g Metallic Color Pigment – Fire Truck… $28.76
45g Metallic Color Pigment – Margarita… $28.76
45g Metallic Color Pigment – Maui… $28.76
45g Metallic Color Pigment – Ocean… $28.76
45g Metallic Color Pigment – Pearl… $28.76
45g Metallic Color Pigment – Reef… $28.76
45g Metallic Color Pigment – Sandbar… $28.76
45g Metallic Color Pigment – Sangria… $28.76
Set of 14x 45G Metallic Color Pigments… $403.16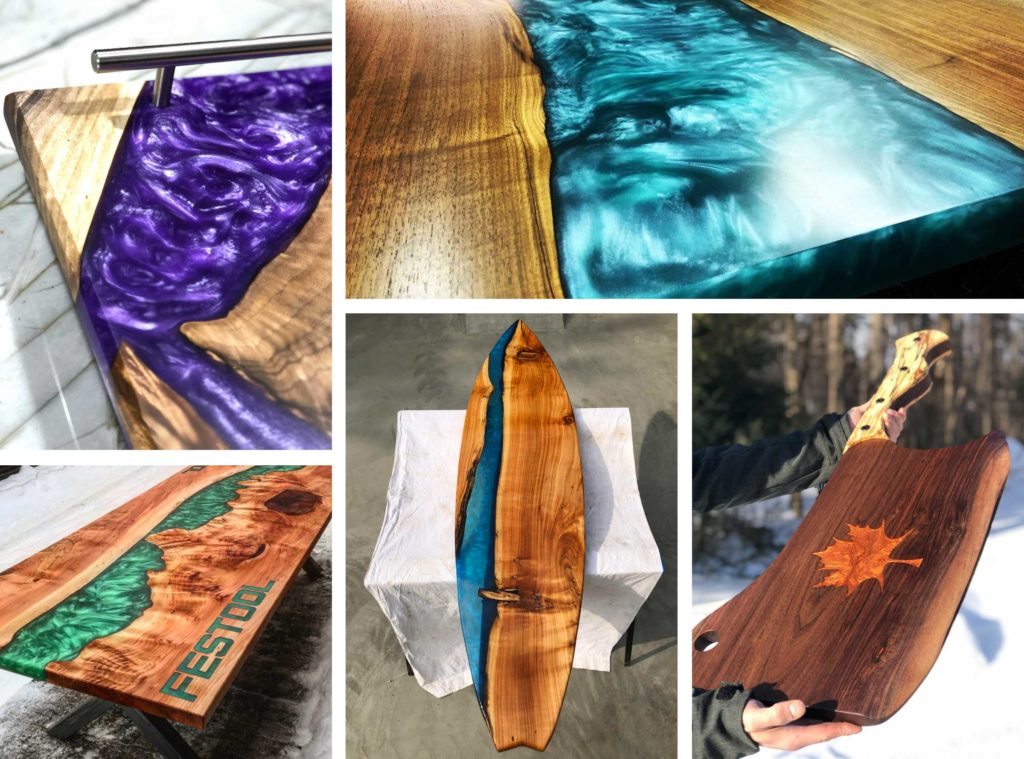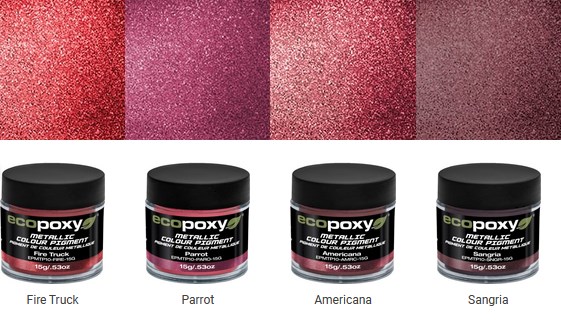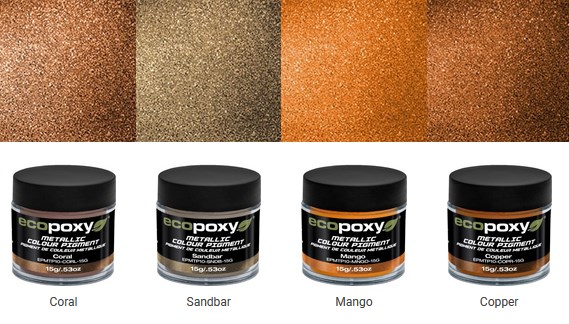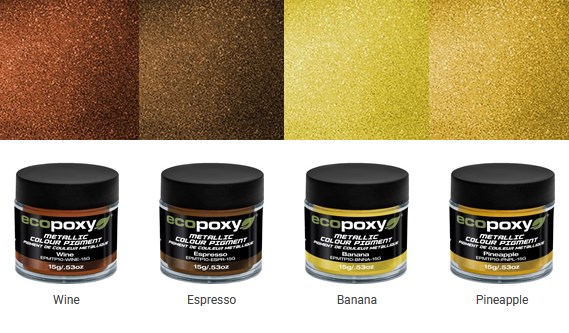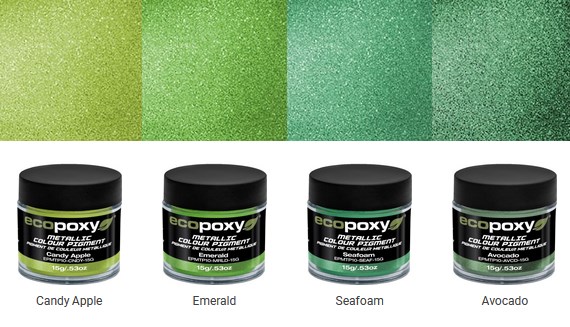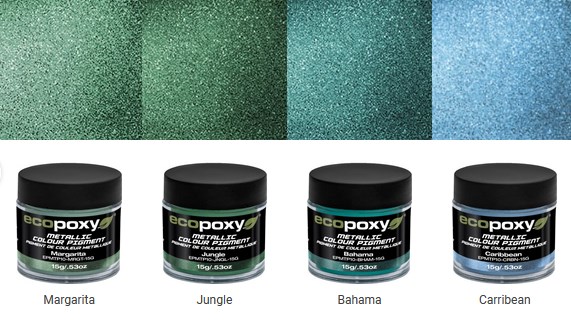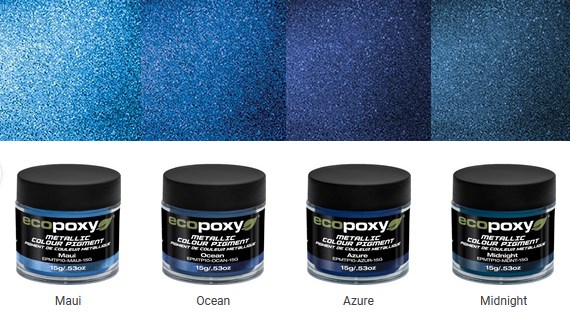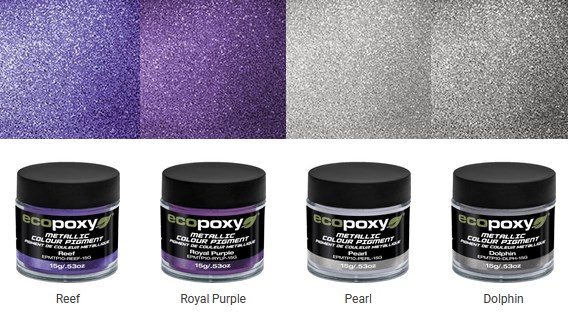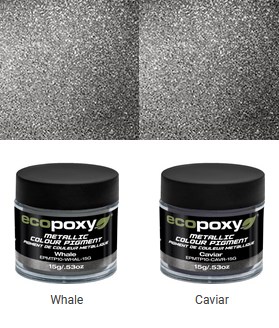 Compare and Find the Best Pigment for Your Project
All of our epoxy color products are specially formulated to suspend in our coating and casting epoxies for even mixing and setting. The effect is where you'll find the difference. Browse through and choose the perfect epoxy pigment for your project.
These unique pigments are designed to be added to EcoPoxy casting and coating resins for beautiful and unique hues and affects!
Metallic Color Pigments are special effect pigments composed of mica nanoparticles coated with various organic and inorganic colors. This creates pearlescent and iridescent effects in your epoxy pour or thin coating that will always be unique and beautiful. We've designed our Metallic Color Pigments to be mixed into our casting and coating resins to create an unlimited array of custom effects. The translucent nature of the pigments still allows light to penetrate the epoxy which will enhance the beauty and aesthetic appeal of your project.
Advantages of Metallic Color Pigments:
Create multi-dimensional, pearlescent and iridescent effects
Stylish, unique designs
Completely customizable
Suitable for many projects
Create Customer Colors and Effects. Just like painting, all EcoPoxy pigments and color products can be mixed and matched to create the effect you're looking for. We recommend testing mixes in a bottle of water and shake well to see the effect before pouring it into your epoxy.
Even Blending. Once pigments are added to the epoxy, follow the mixing time instructions on the resin bottle to ensure even distribution. 
All the Colors of the Rainbow. Epoxy metallics are all available in a rainbow of colors with new ones continuing to be developed. These can be used simultaneously to create custom colors or accentuate the other.